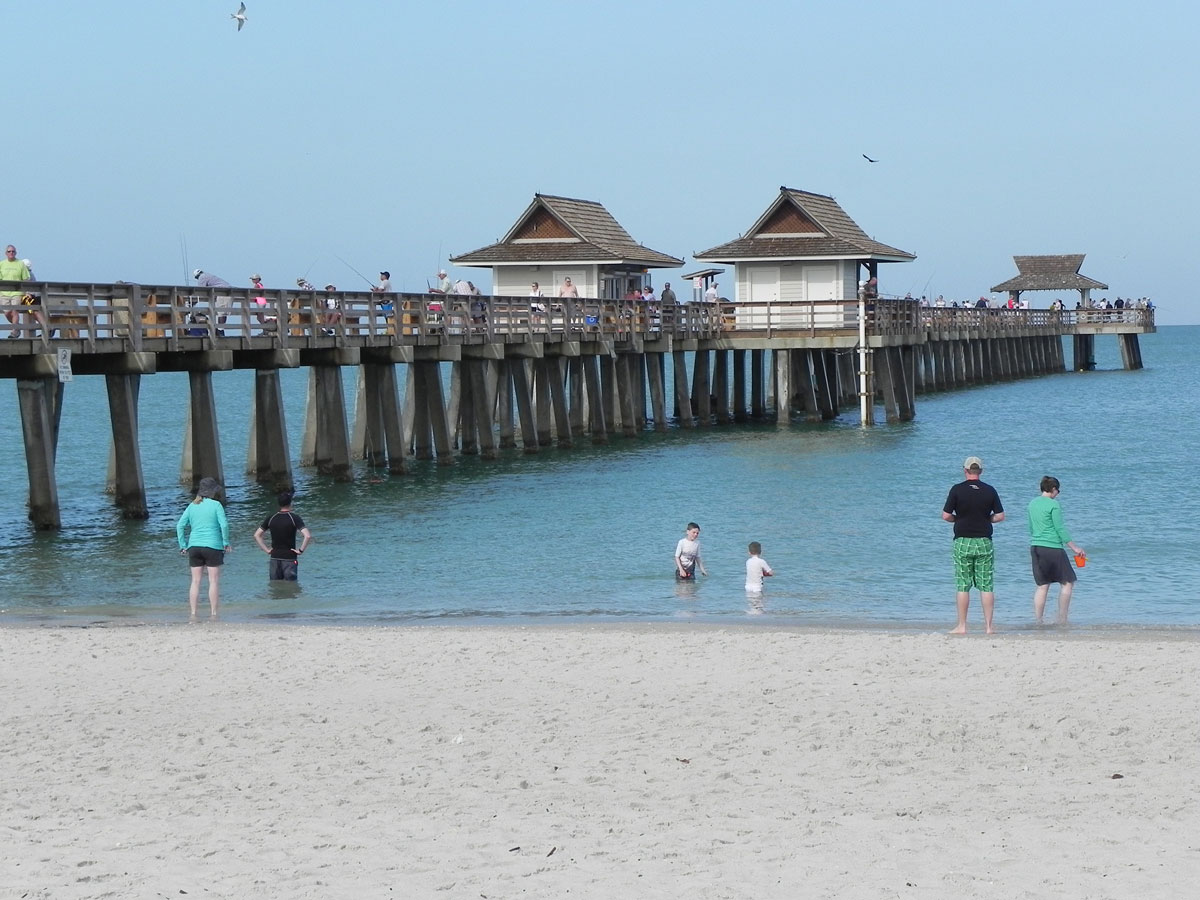 View All Olde Naples Listings
Amenities:

Dining

Shopping

Beaches

Art
Naples, the crown jewel of the Gulf - discovering Olde Naples
---
Described as the "crown jewel of the Gulf," Naples, Florida, located on the Gulf of Mexico on the southwest coast Florida has become known as a paradisiacal retreat for those seeking to escape the chill of the northern climates.
Today, savvy buyers, especially those contemplating relocation to a warmer climate are discovering its charms. And, the time is now to join those boomer-aged retirees and financiers who have realized the profit in owning a piece of prime Naples' real estate. Whether a single home, high-rise condominium, private beachfront or resort-style community dwelling, options for lux living are limitless.
Sugar-sand beaches, dotted by a bounty of sun-bleached shells that offer a glimpse of the sea-treasures below the surf, stretch from Gordon Pass to the south and north to Fort Myers' shores. With its sub-tropical climate and crystalline waters, Naples is truly a boater and yacht-lover's dream and coveted water-sports destination.
However, not only favored for its natural beauty and abundant sunshine, Naples' reputation is well-known as a mecca of art and culture. Art galleries and street festivals, Artis-Naples, the home of the Naples Philharmonic Orchestra and the Baker Museum, theaters and local musical entertainment found at world-class dining and shopping venues sets it apart as the premiere southwest Florida destination.
With its perfect winter climate, Naples holds the distinction as a golfer's paradise with more golf courses per capita than can be found elsewhere and it is home to tournaments for the amateur as well as professional golfer. The 2016 Chubb Classic that included eight Hall of Fame members was recently held at one of the numerous luxury resort-style communities that features first class championship golf course living.
Abounding in native flora and fauna, The Conservancy of Southwest Florida and the Corkscrew Sanctuary give testament to the care and concern locals afford its treasured indigenous co-habitants. Spot native plant varieties such as the red-hued Egyptian star cluster that thrives in the sandy Florida soil and climate, or the bromeliad air plants and bougainvillea tropical vines that lends vibrant color to Naples' landscape and roadways.
For ecologically minded outdoors enthusiasts, abundant estuary wildlife like the pelican and egret, native land animals such as the American alligator, Florida panther, deer, reptiles and turtles and marine life such as manatees and playful dolphins and much more can be sighted amidst their natural habitats.
With a humble beginning, our city was named by early land developers after Naples, Italy that was situated on the Bay of Naples. With its own unique history, the Collier County municipality truly mirrors its Italian waterfront counterpart in many ways with its own story.
During the1880s, the discovery of the beauty of the undeveloped southwest coast quickly spread. With an increased number of travelers setting anchor, by 1886, Naples was founded. In those formative years, it was accessed only by boat that transported freight and travelers, at first, docking at Crayton Cove, formerly known as "Back Bay," on 12th Avenue South.
To accommodate the burgeoning number of travelers, in 1988, a 1,000-foot length pier that stretched into the Gulf was built at the west end off of 12th Avenue South. Having survived a fire in 1912, and hurricane damage in 1910, 1926 and 1960, it has recently undergone renovation. Today, known as Naples Fishing Pier, it supports strolling lovers enjoying sunsets as well as dolphin-watchers viewing the sea animals on parade, gracefully breaking water.
For fishing devotees, there is no fee or license needed to troll the 18 to 20 foot waters for amberjacks, tarpon, snook, grouper and many more indigenous species and many indulge in their passion in the early hours amid the tranquility and peace of the sea.
By 1918, a road comprised of seawater shells and mud in mud ran from Naples to Fort Myers, the first roadway for ground travel. A decade after that first primitive road, Tamiami Trail East was completed making transportation from Naples to the Miami on the east coast a reality.
In 1923, fledgling businesses were hatched on Fifth Avenue South, the first by Ed Frank who serviced the few cars in his auto garage, near 10th Street South. Little did he know that the area would become the city's hub of commerce and trade.
Another early business on the corner of Fifth Avenue South and Eighth Street South was the Rexall Drug Store, and for 50 years, the place to catch up on the latest gossip, business news and pick up sundry items. Today, after a series of metamorphoses, it houses Caffe Milano whose presence truly echoes a piece of Naples history.
By 1927, the depot train station shuttled passengers until service was suspended in 1971. Today, the station is Naples Depot Museum, an historical landmark.
Heralding the dawn of what would be a booming center of business and professional services, in 1949, Fifth Avenue saw the opening of its first commercial bank that, in 1989 would become Barnett Bank.
Savvy depositors soon multiplied their wealth, as they bought large parcels and became the land and property developers of what would became one of the most desirable locations on the southwest Florida coast.
Necessitating housing for the early settlers, small, quaint cottages sprang up, nestled within swaying banyan and palm trees that today, many of which are outfitted with backyard swimming pools for year-round water play. One such cottage, known as Naples' first house, The Historic Palm Cottage ™, meticulously preserved, still stands strong.
An historical landmark, listed in the National Registry of Historic Places, it was built in 1895 with tabbie mortar. Making use of native materials, concrete was mixed with shells, sand and water for its construction.
Maintained by the Naples Historical Society as its educational headquarters, The Historic Palm Cottage ™ offers a museum, docent tours and various programs for the public and school children alike. The onsite Norris Gardens showcases native vegetation and landscape design as it was in days long gone.
Now, cozy cottage get-a-ways share space with expansive beachfront estates and continue to attract those discriminating buyers seeking the ultimate in a luxury lifestyle residence amidst charming surroundings.
And, Naples indeed has charm. Just as the pulse of any city lies in its heart, Olde Naples exudes an innate energy mingled with a relaxed ambiance. Broadly defined as the areas in and around 12th Avenue South, historic Third Street South, to Fifth Avenue South and south to Tin City, each offers their own particular cachet of art, casual and fine dining, upscale shopping – all within in the area considered Naples' birthplace.
Twelfth Avenue South, with the Naples Pier on its western end, contrasts with the rustic charm of its east end that meets Naples Bay at the City Dock, the home of historic Crayton Cove Marina. The site of Naples largest charter fishing fleet, relax and watch any one of the up to 110 foot length charter fishing, sailing, yacht or sightseeing vessels as they maneuver into one of 84 fixed marina slips.
As dusk approaches and as another incomparable sunset makes its magnificent arrival, those in the know make their way to waterfront The Dock restaurant to enjoy their favorite libation and fresh seafood dishes crafted with Caribbean and Latin influences. Almost legendary, their self-described "Naples-style Sunday brunch" features their perennially popular "Make-Your-Own Bloody Mary Bar."
A few blocks away, find Third Street South, bordered by the Gulf on the west and the Bay of Naples on the east and imbibe the spirit of early 20th century visitors. Local lore has it that visits by celebrities and heavy-pocketed folks of means added glam and glitz to the street as they frequented its eateries and shops. Spend a delightful day stopping at one of the outdoor cafes. Then visit the charming shops, art galleries, antique shops and fashion boutiques. Indulge in fine art, select a piece of home décor, or a memento of your trip, or pamper yourself at one of the salons and spas. During the holidays, a mainstay attraction, the Festival of Lights and Celebration of Lights entrance with twinkling orbs.
The Third Street farmer's market, a favorite gathering spot for early morning risers looking for that first cup of Joe or a fresh baked pastry is also ideal for picking up the best of local and fresh-picked produce.
Travel east, and you see Cambier Park, on Eighth Street South, a 12.8-acre cultural, sports, activities and entertainment hub. Offering softball, a tennis center, bocce ball courts, shuffleboard and a playground, the park is a place of recreation for all ages.
Also featuring a band shell, performances by headliner musical acts, big band concerts, to local artists such as Naples Dixieland Jazz Band are presented and enjoyed by audiences who gather early with their lawn chair and coolers in tow.
The Norris Community Center, opened in 2004 is fully equipped with a stage, meeting space, dance and game rooms. It attracts locals and visitors alike with its schedule of recreation classes and professional theatre performances as the home of the Gulfshore Playhouse.
Tin City, on Naples Bay at Fifth Avenue South was the site of clam shelling and an oyster-producing plant and today has evolved into one of the city's most popular attractions. Now, is a tourist mecca for the quirky, unusual and one-of-a kind gifts, goods, jewelry, fashions, a winery and more, and also features waterfront dining with enticing happy hour specials and entertainment.
Perfect for gathering with friends for lunch or for pre-dinner, happy hour specials, patrons can watch passing sightseeing boats that tour Naples waters, or see fisherman returning with the day's bounty, busy cleaning their catch at the marina. Hungry sea birds provide a show, at the ready to snatch scraps. Tin City is also the spot to schedule sunset and dolphin-watching tours, chartered deep-sea fishing excursions or to rent jet skis or boats.
Heading west from Tin City, you arrive at the start of Naples' prestigious and chic Fifth Avenue South, the city's original "Main Street," known as the "heart of Naples." The iconic landmark features world-class shopping with upscale, fine apparel boutiques, a plethora of fine dining options in a wide variety of cuisines, four-star rated lodging at The Inn on Fifth, as well as businesses that covet the prestigious address.
Also praised as an esteemed art center, the annual Downtown Naples Festival of the Arts, attracts local, regional and national artists who envelope the street with their displays of fine art, sculpture, original works, lithographs from masters like Dali and Picasso, hand-blown glass art and much more.
Offering yet another major contribution to the Naples' cultural scene, The Sugden Theatre, located at the avenue's center point is the home of the Naples Players. Presentations like those for the upcoming 2016-2017 season reach all tastes and age groups with shows like "The Rocky Horror Show" to "My Fair Lady." Adult educational workshops, youth theatre and theatre internships keep the theater busy year-round and audiences praising its quality and professionalism.
For aficionados of urban dwelling, Fifth Avenue South is distinctive as it offers Pied-a-terre living, ideal for those wishing to be in the center of action, penthouse residences for private use and investment properties, an attractive draw. And, at the end of a busy day, within walking distance to Fifth Avenue South's farthest western end, the beachfront awaits, with calm, languid, rippling waters gently licking the shoreline, beckoning with its unceasing, ancient, come-hither call.
Naples – it is all of this and so much more, ready to be uncovered and explored. In our next feature, we will delve deeper into detail as we visit selected communities, revealing their particular charm, allure and appeal.